about me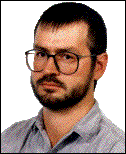 Andre Bartetzki was born in Berlin in 1962.
He began his training and professional work as sound technician at the broadcast stations and recording studios of the former GDR. From 1987 until 1993 he studied sound engineering at the Musikhochschule "Hanns Eisler" in Berlin, where he founded and headed the studio for electroacoustic music until 2002. Between 1999 and 2004 he worked and taught at the electroacoustic studio at the Musikhochschule "Franz Liszt" as well as at the Media Arts faculty of the Bauhaus-University in Weimar. At the end of 2009 he became the director of the Electronic Studio at the Technical University Berlin (Audio commuciation group) together with Volker Straebel. He has also given lectures and workshops on electroacoustic composition, sound synthesis and audio programming at the TU Berlin, Humboldt University Berlin, the Bauhaus-University Weimar, the Hochschule fuer Musik und Theater Rostock, the Podewil Berlin, at the Academy of Arts in Berlin as well as at academies of music, universities and other institutions in Bucarest, Prague, Lisbon, Seoul, Stockholm, Salzburg.
Besides his teaching, he works as a programmer, sound designer and sound engineer with institutions, ensembles, soloists and composers of new music: Kammerensemble Neue Musik Berlin, Ensemble work in progress, United Berlin, Kairos Quartett, William Forman, Helmut Zapf, Hanna Hartmann, Yueyang Wang, Matthias Jann, Johannes Wallmann, Miguel Azguime, Lenka Župková, Günter Heinz, Akademie der Künste, Kryptonale Berlin, Musikakademie Rheinsberg, Randspiele Zepernick, Festival Inventionen, to name a few.
His software CMask for algorithmic composition is being used by many composers around the world.

Since the mid-nineties he has been developing and performing his own musical and media art projects: tape music, performances with live-electronics, video and sound installations. His works were performed at international festivals for contemporary and electroacoustic music such as the Kryptonale Berlin, Randfestspiele Zepernick, LAC 2007 Berlin, Pyramidale 2008, 2013 and 2015 Berlin, Kontakte 2015 Berlin, Internationales Klangkunstfestival 2014 Berlin, Hörkunstfestival Erlangen 2006 and 2009, Dresdner Tage für zeitgenössische Musik 2007, CAMP 2012 Stuttgart, Saarbrücker Tage für elektroakustische und visuelle Musik 2014, ICMC2002 Gothenburg, ICMC2005 Barcelona, ICMC2007 Kopenhagen, ICMC 2008 Belfast, ICMC 2011 Huddersfield, BIMESP 2002 São Paulo, SICMF 2003, 2004, 2005, 2009, 2012 und 2015 Seoul, Nuits d'hiver 2005 Marseille, ping! 2007 and 2008 Mallorca, ACMC 2005 Brisbane, deepwireless 2008 Toronto, emufest 2009 Rome, ElectroVisiones 2009 Mexiko, WOCMAT Taiwan 2012, SuperCollider Symposium 2006 Birmingham, 2010 Berlin and 2012 London, digitIZMir 2015 Izmir, Música Viva Lissabon 2014 and 2015.
Solo-recitals in Weimar, Izmir, Lissabon, Hsinchu.
In 2004 he received a commission for the European Bell Festival by the ZKM Karlsruhe. In 2007 he got a residency scolarship at the Künstlerhaus Lukas in Ahrenshoop, 2009 a sound art residency at the Denkmalschmiede Hoefgen, 2015 a residency at the Visby International Centre for Composers.

Between 1997 and 2004 he was a member of the board of the German Association for Electroacoustic Music (DEGEM), where he was working as the editor of the DEGEM newspaper.