rumor
installation with tubes, balls, sensors, microphones, computers and loudspeakers
a collective work by students of the Bauhaus-University Weimar
and Robin Minard, Dieter Kemter and Andre Bartetzki
2002, festival Inventionen, Staatsbank Berlin
rumor was developed during the seminar "Klangräume" (sound spaces) at the media faculty at the Bauhaus-University in Weimar. This seminar was held by Robin Minard, Dieter Kemter and Andre Bartetzki. 8 students (Rafa Bernabeu, Antoine Léchevin, Alexander König, Lars Mai, Matthias Neumann, Felix Obée, Hannah Leonie Prinzler, Stefan Wilk) worked for 3 months on different aspects of the design of this sound sculpture: the concept, the construction, the sounds, the sound processing, the sensors and so on. rumor consisted of a huge system of copper tubes looping down several stories of a staircase. On the upper end the visitors had thrown ping-pong balls into the tube. The balls were rolling down through the system whereby at different positions several audio and trigger signals were sent to a computer. These signals were used to control and feed various sound processes which were played back through 16 loudspeakers in the staircase. The more balls were in the system the more excited and lively were the generated sound textures.

rumor was commissioned by the Inventionen 2002, a festival of New Music in Berlin organized by the daad, the TU Berlin and the singuhr hoergalerie in parochial.
It was presented together with 6 other works in the "Staatsbank Berlin", a former building of the state bank of the GDR.
A CD-ROM of the Inventionen 2002 with documents, sounds, movies and photos is distributed by Edition RZ and PFAU-Verlag.
A short soundwalk in the staircase: (recording: Johannes Sienknecht):

Impressions of the vernissage in the Staatsbank: rumorvernmp4.mov

Project page at the Bauhaus-Universität Weimar: Klangräume
Die Installation im Treppenhaus der ehemaligen Staatsbank handelt von Bewegung.
So wie die Besucher auf die Treppen angewiesen sind, um sich durch das Haus zu bewegen, lebt die Installation von der Bewegung der Besucher: sie sind treibende Kraft, welche Klang auslöst und in prozesshafte Bewegung setzt.

Andre Bartetzki
During the collective development of rumor many technical, functional and esthetic design proposals were discussed.
See the two documents below on interim stages of the project. For the interaction and the live sound processing MaxMSP was used.
| | | | | |
| --- | --- | --- | --- | --- |
| | | | | |
| the tube system and its interaction | signal flow diagram | | | |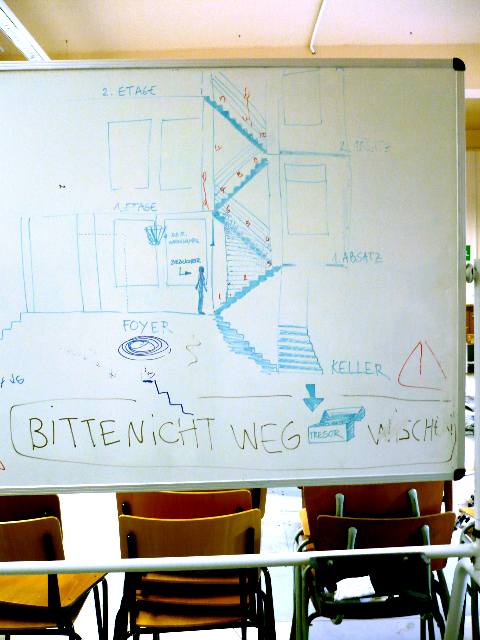 Photo: Ludger Hennig